Recipe by:meedo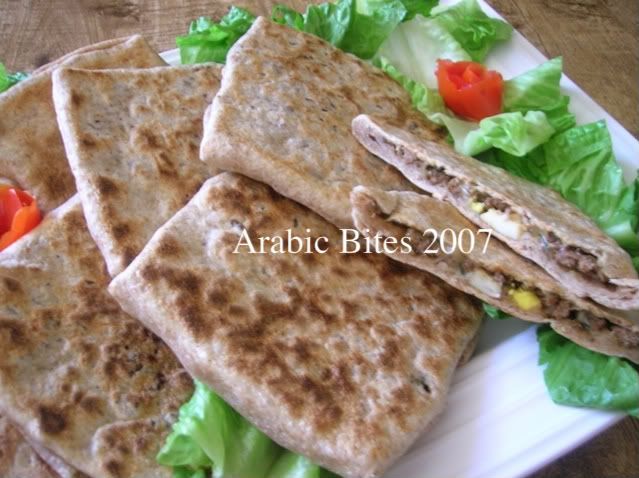 picture from arabic bites
http://arabicbites.blogspot.com/2007/09/mtabaq-lahem.html
hey readers.as u all know i loooveee cooking SOOO much rite..So now im sharing a recipe that i found from a website
Arabic Bites
that called
MTABAQ LAHEM
..i already try it.and its taste soo good,but i do some alteration here and there to suite my family taste buds.heheee..i would say this mtabaq lahem taste like mtabaq goreng that i used to buy in terengganu..hope u guys enjoy trying it. :P
For dough : (original recipe from arabic bites)1 1/2 cup white flour.
1 1/2 cups whole wheat flour.
1 teaspoon baking powder.
1/4 teaspoon salt.
2 Tablespoons olive oil.
1 1/3 cup water.
For dough

:

place all ingredients in the bowl of mixer ,beat 3 minutes to make a soft dough.
4)Divide dough into 12 pieces.
the alteration that i did is only in the filling..
FILLING ALA2 SUZY
1/2 Tablespoon olive oil.
500 g ground meat.
1/4 teaspoon black paper.
1 teaspoon salt or to taste.
1 big yellow onion, chopped.
2 cloves garlic,chopped
1 cup chopped coriander leaves
5 tablespoon (tbs) coriander powder
2 tbs curry powder
1/2 cup of milk (or coconut milk)
3 boiled eggs.
1/4 cup cheddar cheese cubed.
For filling:
heat olive oil in large pan and cook the onion,garlic till golden brown.add meat and cook till it lil bit brown and then put all the spices (coriander powder,black pepper and curry powder) and pour all the milk and cook till its slightly dry..few minutes before u wanna turn of the gas,put the coriander leaves n stir for few minutes..let it cooled down n mixed with cheddar cheese n boiled egg
and the rest step checkout at arabic bites okay :)